You don't have an account?
Who we are
While silver, gold and platinum will shine, the full effect of precious metals comes alive when set with sparkling gems. Colored gemstones are our specialty here at Juwelo, where you will find a diverse selection of authentic high quality gemstone jewelry set with the most stunning stones from all over the world, all at very affordable prices.
Who is Juwelo?
Juwelo.com is the US-Subsidiary of publically-traded elumeo SE, the European leader in electronic retailing of fine handcrafted gemstone jewelry. The management of elumeo has over 20 years' experience in the gemstone and jewelry business, proudly offering exceptional quality jewelry at the most competitive prices.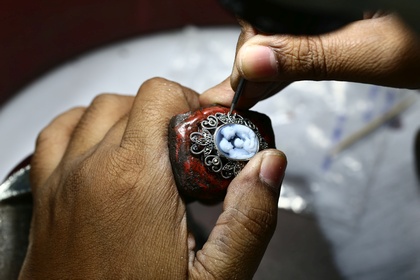 Handcrafted by our factory
The elumeo Group was founded in 2008 and is headquartered in Berlin. We offer our customers colored gemstone jewelry at comparatively low prices via a number of electronic distribution channels (including television, the Internet, smart TV, and our smartphone app). Our distribution model relies exclusively on direct sales made via the elumeo Group's home-shopping TV channels in Germany, the UK, and Italy, and via online stores in Germany, the UK, Italy, France, the Netherlands, Spain, Belgium, and the USA.
We have expert gemstone buyers, who travel to all major gem markets around the world and buy directly from the mines. Juwelo obtains its gems only from trusted sources, strongly rejecting the trade of illegally obtained stones. The gemstones we purchase do not finance armed conflicts or support terrorist activities, nor do we engage in business relating to jewelry made from endangered species (e.g. coral or ivory).
Where does the jewelry come from?
Many of the unique jewelry designs are created directly in our studio in Berlin, Germany. These are then handcrafted with the highest precision by our local partners in India and Thailand. The production facilities of our partners, with whom we cooperate closely, are located in Jaipur, India and Bangkok, Thailand, and thus directly at the pulse of the gemstone market. Only here can gemstones be purchased in such large varieties and quantities.
Our designers
As a Juwelo customer you profit directly from these locations. Since we do without intermediaries, we are able to offer high-quality, authentic gemstone jewelry at incredibly competitive prices. Juwelo relies on an integrated model for this: all necessary steps, from the discovery of a gemstone to its treatment to its becoming a sparkling piece of jewelry available for purchase, are carried out by our experts themselves. To do so, Juwelo´s team includes gemstone buyers, cutters, jewelry designers, goldsmiths and manufacturers. Quality control, which is carried out after each and every production step, is of the utmost importance to us.
Juwelo's Mission
Juwelo is passionate about its mission to produce genuine gemstone jewelry at affordable prices. Our industry experts negotiate highly competitive prices, directly passing on the savings to our customers. We are proud to be a mine-to-market jeweler involved in nearly all areas of jewelry production and direct customer sales. There's no middleman so our customers benefit with our highly competitive and affordable prices.
Whether you share our passion for gemstone jewelry or just looking for that right piece to add to your collection, your satisfaction is very important to us. In the US, we intend to continue what we established throughout Europe, building long-lasting customer relationships. We plan on continuing our tradition of strong customer loyalty. Join us and let us know what you think. It is not just words when we say your feedback is important to us. Spoil yourself and visit Juwelo.com today.