Mobile Apps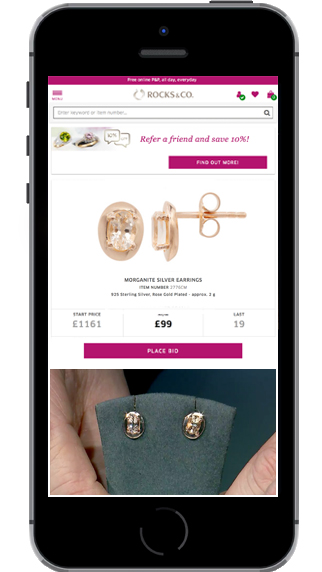 TV-Auction Live / Shopping
With the brand new Juwelo App for all Android or Apple devices/tablets you are able to discover the whole world of Juwelo jewellery and purchase from our wide variety of gemstones. Thus participating and bidding has never been so easy. Wherever you are you can watch our exciting TV auctions whether on your smartphone or tablet. Whether you're are at home, at work, on the bus or train or even on holiday: Bid with your smartphone or tablet.
Easy to install
Just download your Rocks &. Co. app via Google Playstore or App Store onto your Smartphone or tablet. In order to register yourself please type in your mobile number (Please choose your country code first). Shortly after that you'll receive a message with a code which you require for finishing your registration which will allow you to start bidding immediately.
Bidding
With your Rocks & Co. App you can easily bid on live TV just one click away. All you need is a mobile with internet connection (depending upon your contract charges may apply). When the "bidding" button turns blue, the TV auction is running and you are able to place a bid by simply clicking on it. Once you've clicked "Bid", you simply have to click "Confirm".
Easy to use
With your Rocks & Co. app you'll find everything concerning the current TV auction on one screen. You can see the picture of the jewellery item, the actual price and of course every important detail of the item itself.
Fast service
Once you've done your successful bid you'll receive a quick call by our friendly customer service agents for your final confirmation. If you do not have a Rocks & Co. customer account yet, we are happy to create that together with you during the call.
Please help us!
Using the app and got any feedback? Which functions you would like to see improved or added? Just send your feedback to customerservice@juwelo.com