Find your personal ring size
At Juwelo we offer a wide range of rings using the standardised diemater sizing system (also known as the 'wheat sheaf' system). Find out your personal ring size! On this page you will find all the necessary tools to quickly and easily determine your ring size. The table below gives an overview of our sizes and conversions.
Get your ring size
Determine ring size
Option 1: Juwelo ring template or ring sizer
To determine your personal size, we have prepared a ring template for you. You can find out the inner diameter by placing a suitable ring onto the template.
Get your ring-sizer here!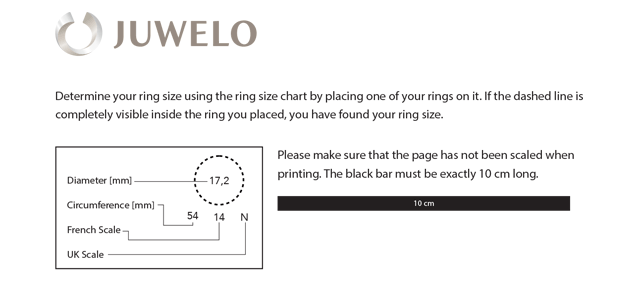 Ring-sizer Preview
Option 2: Determine the inside diameter
Place a ring that fits you well on a ruler and read the inside diameter in millimeters on the ruler. Multiply this value by 3.14. The value you get is your inner circumference.
Inner diameter (in mm) x 3.14 = inner circumference (in mm)
Option 3: Determine the inner circumference
A piece of string is wrapped around the finger you want to wear the ring on. Wrap the string around the finger so that it is not too tight and fits over the knuckle. Use a pen to mark the spot on the string where both ends meet. The length of the cord measured on a ruler is your inner circumference.
You can easily enter this in the table at the top of the page and we will calculate the ring size for you!
Option 4: Free Welcome Package
In addition to the book "The World of Gemstones", our welcome package includes a practical ring sizer made of plastic. We will be happy to send you this free of charge and without obligation. Register now for free .
International Ring Size Calculator
Do you already know your inner diameter or inner circumference? By making an entry in the corresponding field, you will receive all information about your ring dimensions at a glance. You can find help with determining the inner diameter and inner circumference here.
Learn here how to measure yourself.
13
13
1
1
40
C ½
12,5
39,1
-
B
1
The slider helps you adjust the ring size information all at once.
Inner diameter