Jewellery Wearing Tips
"A strong piece of jewellery can make a simple outfit look elegant."

Giorgio Armani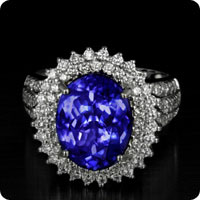 AAA Tanzanite & Diamond 18K White Gold Ring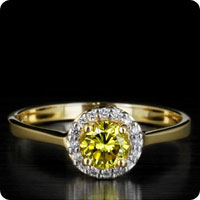 Yellow Diamond & Diamond 18K Yellow Gold Ring
Details on larger earrings bring out facial features and flatter larger ears.
Because they don't detract from the shape of the ear, stud earrings look good on just about everyone. Just wear studs in proportion to the size of your earlobes.
To distract the eye away from your nose, use earrings that aren't the same length or shape as your nose, don't cover the earlobes, don't dangle below the earlobes, or wear earrings that are similar shapes to your eyes or mouth.
Earrings that work for most people are stud earrings, 1 inch (2.54 centimetres) diameter shell-shaped earrings, and 1 inch (2.54 centimetres) diameter round or oval hoop earrings.
At the workplace, wear earrings no larger than approximately 1 inch (2.54 centimetres) in height and width.
Your jaw line determines what necklaces and earrings are most flattering to you.
Harmonise your necklaces with your necklines so you don't confuse the eye.
Rings longer than they are narrow emphasise the length of long fingers.
Wide bands or stacked rings make fingers appear shorter.
A ring with an asymmetrical or diagonal setting can make shorter fingers appear longer.
A ring that has a narrow strip that extends down the middle of your finger makes your hand seem wider.
Wearing rings across your hand on all your fingers also makes your hand appear wider.
Wearing a ring on your pinky finger emphasises the outside edge of your hand, making it appear wider.
Big rings look best with longer fingers or larger hands.
Check to see how your jewellery looks in a full-length mirror before going out.
The focus of any jewellery ensemble, the 'portrait area' is an oval approximately the width of your face, stretching from the top of your head to one head-length below your chin.
To get a handle on different jewellery styles, why not have a jewellery party! Get you your friends to bring all their jewellery so everyone can try it on. Make sure you take photos for later discussion.
Jewellery is a great conversation starter in social situations, just ask my wife. As you can imagine, she has a quite a collection. I am constantly amazed how many people strike up a conversation after noticing her gemstone jewellery.